Upper Mustang- 16 days
Trip Overview
Trekking is one of the most popular activities in Nepal. Among the many popular destinations, Mustang is one of them which is also known as 'Mini Tibet of Nepal'.
Mustang lies in the altitude of 3,840 meters in the North-West part of Nepal. Annapurna and Nilgiri mountain range extends across the northern part. This place is rich in vegetation, apple fields, and rhododendron forests to add the beauty of Mustang.
Upper Mustang trek offers a chance to explore the thousand-year-old monastery, caves, local tribes, and scenic beauties of landscapes with a spectacular trekking experience in the remote Himalayan mountain region of Nepal.
In the past, Mustang district used to be the best place for trekking by foot or riding horses. Plus, a route that directs to the Tibet, but over the years, road construction began and now there are many things that you can experience like tours, biking and the old tradition of horse riding.
The 16-day trip begins in Kathmandu with tours of UNESCO World Heritage Site. Then we drive to Pokhara and fly to Jomsom the next day and begin trekking. Upper Mustang is also known as the Last Forbidden Kingdom because it wasn't until the 1990s that tourists were allowed to enter the region. While trekking in the Upper Mustang region of Nepal, we can admire the uniqueness of tree-less landscape, rocky trails and views of Nilgiri, Annapurna, Dhaulagiri, and other Himalayas.
---
Trip Info
Destination: Mustang, Nepal
Trip Routes: Kathmandu - Pokhara - Kagbeni - Chele - Syangbochen - Ghami - Lo-Manthang - Dhamkar - Syangbochen - Chussang - Jomsom - Pokhara - Kathmandu
Activities: Trekking and Sightseeing
Altitude: 3840m (12598ft)
Trip Duration: 16 Day(s)
Trip Grade: Moderate
Season: March to June and September to December
---
---
Outline Itinerary
Day 01: Arrival in Kathmandu (1300m)
Day 02: Drive to Pokhara (900m)

Day 03: Fly to Jomsom and trek to Kagbeni (2,800m)

Day 04: Trek to Chele (3,050m)

Day 05: Trek to Syangbochen (3,800m)

Day 06: Trek to Ghami (3,520m)

Day 07: Trek to Charang (3,560m)

Day 08: Trek to Lo-Manthang (3,840m)

Day 09: Exploration of Lo-Manthang

Day 10: Trek to Dhamkar (3,820m)

Day 11: Trek down to Syangbochen

Day 12: Trek to Chhusang (2,980m)

Day 13: Trek to Jomsom (2,720m)

Day 14: Fly to Pokhara and rest

Day 15: Drive back to Kathmandu

Day 16: Departure
---
Cost and dates
We do small group trek or private trip as your request.
For quick information / contact us at WhatsApp/Viber +977-9841815039

This trip can be redesigned or redeveloped as per your taste, For more information please e-mail us at mountainsunvalley@gmail.com
Itinerary
Day 1 Arrival in Kathmandu (1300m)
Today, upon your arrival we will come to pickup you on the airport and drop you to the Hotel.
Day 2 Drive to Pokhara (900m)
we will drive to Pokhara for 6 to 7 hour by bus . After reaching there, You will have the opportunity to explore around beautiful lake city in the night or go for boating in Phewa Lake.
Day 3 Fly to Jomsom and trek to Kagbeni (2,800m)
We will catch a plane from Pokhara to Jomsom of 20 minutes to reach the beautiful town of Jomsom. You will enjoy beautiful views of the lofty hills and mountains during your flight. From Jomsom, we will trek uphill for 3 hours alongside Kali Gandaki to reach Kagbeni.
Day 4 Trek to Chele (3,050m)
We will continue our journey towards the east bank of the Kali Gandaki climbing through numerous ridges, and then reach north to the Tangbe village. Crossing the Kali Gandaki Valley, we will climb uphill to tiche Chele.
Day 5 Trek to Syangbochen (3,800m)
We will make a gradual descent to some Chortens on a ridge, and after hiking downhill for some more time we will reach the beautiful village of Samar. We will keep trekking through another valley, fields, cross a stream and climb up a ridge which lies at 3,800m. We will climb yet another pass, go through another ridge and trek downhill to Syangbochen.
Day 6 Trek to Ghami (3,520m)
From Syangbochen, we will gently hike uphill to a pass at 3,770 and trek downhill to reach the village of Geling. From there we will climb downhill for half an hour to reach a trail junction, the right trail is a route to Charang while the left one leads to Ghami.
Day 7 Trek to Charang (3,560m)
It will be a tiring trek in this rough terrain. However, on reaching our destination, we will be rewarded with splendid views of the remote countryside, and Rocky Mountains in all directions.
Day 8 Trek to Lo-Manthang (3,840m)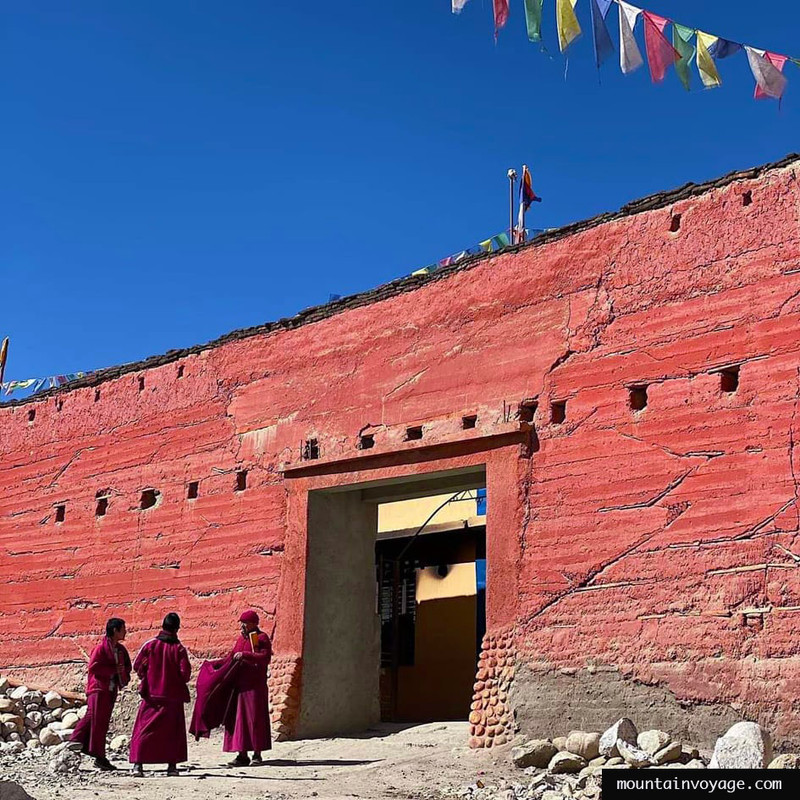 We will trek to one of the major attraction center of this trip. On reaching the walled city of Lo, you will have the opportunity to visit the ancient temples and monasteries of the region and the periphery of the King's impressive palace, where the King and Queen of Lo- Manthang reside.
Day 9 Exploration of Lo-Manthang

We will explore this mystical town of Lo-Manthang, starting with a 2 hour visit of the Namgyal Gompa. After that, we will visit the village of Tingkhar, northwest of Lomanthang with its 40 households. We will also visit Champa Lhakang where you will admire a large Buddha statue and intricate Mandalas painted on the walls.
Day 10 Trek to Dhamkar (3,820m)
We will exit the Lo-Manthang taking the upper highland trail. It will reward us with splendid views of Lo-Manthang and Charang Valley, with snowy mounts in the background.
Day 11 Trek down to Syangbochen
With Dhaulagiri and Nilgiri among other mounts standing tall in the background, we will hike down to Syangbochen.
Day 12 Trek to Chhusang (2,980m)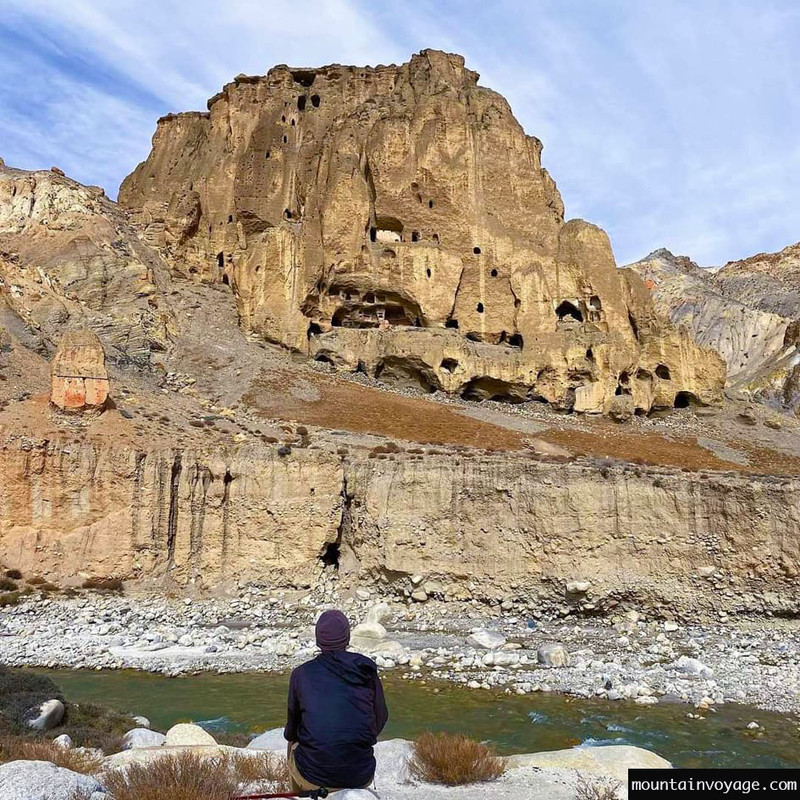 We will continue our trail through steep ridges and hills along pleasing sceneries of mountains and hills. We will trek to Tetang, the upper village of Chuksang which lies between two hills.
Day 13 Trek to Jomsom (2,720m)
On the last day of this memorable trek, we will go through the trail of Jharkot village and visit its Monastery, Tibetan Herbal Medicine Center, and ancient fortress which once was a palace.
Day 14 Fly to Pokhara and rest
After taking a 20 minute flight to Pokhara, we will spend the rest of the day in this beautiful lake city to explore, go boating in exotic Phewa, Rupa and Begnas Lake, visit the beautiful hilltop monastery or go exploring the mystical caves.
Day 15 Drive back to Kathmandu
Once again the scenic bus ride will keep you refreshed throughout the journey.
Day 16 Departure
Today we will drop you to the airport and hope for see you again in future!C
Equipment List
Waterproof jacket.
Waterproof trousers.
Fleece jacket.
Down jacket.
Fleece/sweater
Light-weight fleece or wool vests.
Long or short-sleeved shirt.
Warm hiking trousers.
Underwear.
Warm hat
Wide rimmed sun hat.
2 – 3 pairs good quality walking socks.
Warm gloves or mitts.
Large rucksack or Duffel bag.
Rucksack liner or thick bin bag.
Day sack.
Dark sunglasses.
High factor sun-cream.
Lip balm preferably with sun bloc.
Ear plugs.
Head torch/torch and spare batteries.
1 liter 2 water bottle.
Water purification kit.
Toiletries.
Small hand towel.
Toilet paper.
Useful Info
This trek can be redesigned or redeveloped as per your taste, For more information please e-mail us at mountainsunvalley@gmail.com
FAQ
1. What preparations should I make before trekking?
It is always a good idea to involve yourself in doing physical exercises before trekking. Not that you have to be all athletic and muscular to trek. An average level of physical fitness will make the journey less stressful.
2. Is drinking water easily available?
Availability of drinking water is not the problem. The problem is the cost of it at higher altitude. As you gain height, the price of water rises up to 2-3$ per liter.
An alternative way of getting drinking water is by having your water bottles filled in tea houses. Tea houses will provide you boiled water for about 1$ per liter. They are completely safe for drinking.
3. What kind of food is available during trekking?
Food is not of any concern while trekking. You will get all kinds of cuisines. For breakfast, tea houses will provide you with eggs cooked in your preferred style along with pan cakes, bread butter, roti, and so on.
Various other dishes like pizza, pasta, momo, chowmein and many more are also available. The most preferred dish is Dal Bhaat. It is a typical Nepali meal. Rice is served with vegetable curry, lentils, tomato chutney and meat curry.
4. What are the risks associated with trekking?
Trekking is an extreme sport and does come with a lot of risks. Some unavoidable risks are avalanche, heavy rainfall, earthquake, landslide and other such natural calamities.
You might fall and injure yourself or catch some viral flue. The deadliest risk of trekking is AMS or Acute Mountain Sickness. This sickness occurs when a great altitude is gained and the body fails to adjust to the changing pressures associated with it. Anyone can fall a victim of the sickness and if not treated in time, it can be fatal.
5. Do I need a guide/porter to trek?
There is no such hard and fast rule that you must have one. But it is highly advisable to travel with them. Some of the treks cannot be trekked without a guide most of them are the restricted ones.
A guide is someone who will help you with navigations. He will also have a better idea about the places to live in and eat at can negotiated prices for you.
The trip can be easily booked
We provide budget friendly trips
We provide the best price in comparision
Route Map