Ruby Valley
Trip Overview
Ruby Valley Trek Nepal is one of the most popular and relatively new trekking routes in the Mid West-Central Himalayan range of Nepal. Ruby Valley Trek has gained its popularity among trekkers and explorers, mainly because the region is unexplored and less crowded compared to the popular trekking routes of Everest and Annapurna region.
The trail offers varieties of beautiful scenery of the Himalayas including Annapurna, Langtang, Ganesh Himal, and Manaslu, Buddhist monasteries and Hindu temples, waterfalls, ponds, and forests. Rare flora and fauna such as rhododendrons barking deer, Red pandas, snow leopard, bear, tiger, and pheasant are also found in this region. The best time to visit this area is in the spring and autumn season to see the mountains and to see the magnificent red Rhododendrons, Nepal's national flower.
---
Trip Info
Destination: Langtang, Nepal
Trip Routes: Kathmandu - Syabrubesi - Gatlang - Tippling; Pangsang La Pass - Shertung - Chalish Gaon - Jharlang - Darkha Gaun -Kathmandu; Darkkha Phedi
Activities: Trekking and Sightseeing
Altitude: 3730m (12237ft)
Trip Duration: 12 Day(s)
Trip Grade: Strenuous
Season: Spring and Autumn
---
---
Outline Itinerary
Day 01: Arrive Kathmandu and transfer to hotel
Day 02: Drive to Syabrubesi (1460m) 7-8 hrs drive
Day 03: Trek to Gatlang (2240 m / 7355 ft) 6 hrs trek
Day 04: Trek to Somdang (3,270 m/10,765 ft) 6-7 hrs
Day 05: Acclimatization and explore day
Day 06: Trek to Tippling via Pangsang Pass La (3842m) 8-10 hrs trek
Day 07: Trek to Shertung (1875m) 5-6 hrs trek
Day 08: Day trip to Hot Springs and trek back Chalish Gaon 1674m 4-5 hrs trek
Day 09: Trek to Jharlang (1800m) 6-7 hrs trek
Day 10: Trek to Darkha Gaun (850m) 6-7 hrs trek
Day 11: Trek to Darkha Phedi and drive to Kathmandu (1300m) 45 Min trek and 6 -7 hrs drive
Day 12: Final Departure
---
Cost and dates
We do small group trek or private trip as your request.
For quick information / contact us at WhatsApp/Viber +977-9841815039

This trip can be redesigned or redeveloped as per your taste, For more information please e-mail us at mountainsunvalley@gmail.com
Itinerary
Day 1 Arrive Kathmandu and transfer to hotel
We will welcome you at the airport and drop you to the Hotel.
Day 2 Drive to Syabrubesi (1460m) 7-8 hrs drive
After breakfast, we drive towards Syabrubesi from Kathmandu. Upon reaching Trishuli bazaar, we will have lunch and continue our drive. After reaching Syabrubesi, you can have a beautiful view of mountains, landscapes throughout the journey.
Day 3 Trek to Gatlang (2240 m / 7355 ft) 6 hrs trek
Today, climbing to the west and passing through rural villages and terraced fields we get great scenic views of nature. Trekking at the off beaten path, with our pace, the scenery is indeed peaceful and spectacular.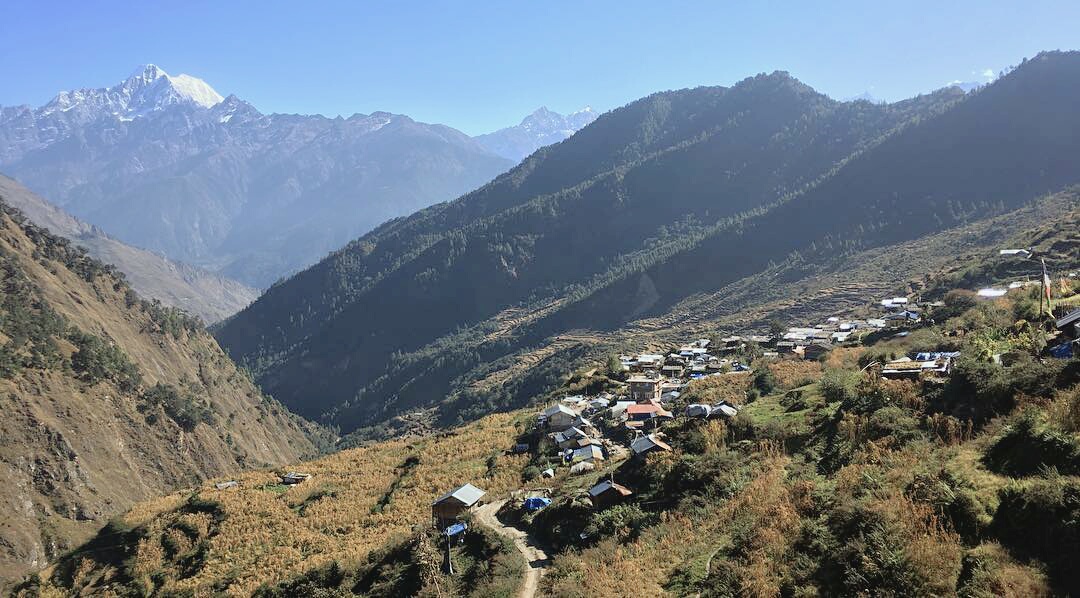 Day 4 Trek to Somdang (3,270 m/10,765 ft) 6-7 hrs
Today, the trail goes gradually up and continues towards Khurphu Bhanjyang. After crossing the Somdang River, we will enter the Dhading district from the Rasuwa district. A sprawling mining compound, no longer functioning but seem locals appealing government to revive it, lies a few hours to the north upriver. Before reaching the village of Somdang we will pass the Chukarma Waterfall.
Day 5 Acclimatization and explore day
We will spend this day around Somdang village; we will also visit the Lari mine nearby. We can also chat with the locals and know there culture and dress, their occupation is mostly agriculture and looking over the mountains provides every traveler an eye watching the view. We do the site trip, pack up the lunch, move towards Pangsang La top, and watching the Yaks, flora, and faunas.
Day 6 Trek to Tippling via Pangsang Pass La (3842m) 8-10 hrs trek
From the small settlement of Somdang, we have a climb through more scenic terrain with dense jungle on the way up to a large pasture that is known as Pangsang Kharka. This pass has a wide-open meadow and affords great views of the surrounding territory including the Annapurnas, Manaslu and mighty Ganesh Himal and more. We reach Tipliing, a large settlement of mostly Tamang people with Buddhist monasteries and Christian churches as well.
Day 7 Trek to Shertung (1875m) 5-6 hrs trek
Descend to cross the Adha Khola on a box bridge and ascend to the sister villages of Shertung and Chalish, regally overlooking the fertile river valley and abundant fields. Spectacular Mountain View of Lapsang Karpu, Ganesh Himal (Yangri) as well as Ganesh II and III can be seen from this village.
Day 8 Day trip to Hot Springs and trek back Chalish Gaon 1674m 4-5 hrs trek
After breakfast, trek down to Chalish village taking 30 minutes' walk, leave your most of the luggage and trek to Tatopani (hot springs) walking 2 hours. Enjoy half of the day taking bath with one of the best hot spring of this region. After enjoying return back to Chalish village.
Day 9 Trek to Jharlang (1800m) 6-7 hrs trek
We will pass through the scenic village of Borang, and then we continue through more dense jungle terrain. The route takes us through remote villages with beautiful surrounding fields and then we climb to Jharlang, a large settlement with spectacular views.
Day 10 Trek to Darkha Gaun (850m) 6-7 hrs trek
After breakfast, trek most of the way down to Jharlang Phedi walking 2 ½ hours passing paddy terraces and surrounding landscapes. Passing through suspension bridges, breath-taking views of Ankhu Khola and Chhapchyat, as well as Ri village another side of the river, finally reach Darkha gaon.
Day 11 Trek to Darkha Phedi and drive to Kathmandu (1300m) 45 Min trek and 6 -7 hrs drive
We make a pleasant trek down through beautiful territory of jungles and fertile fields and pleasant villages. After having lunch we continue our drive back to Kathmandu.
Day 12 Final Departure
We will drop you to the airport approximately 3 hours before your scheduled flight.
Equipment List
Footwear : Well broken-in walking shoes - these must be suitable for snow, thick socks, light socks, camp shoes.

Clothing : Down or fiber filled waterproof jacket and trousers, sweater or fleece jacket, underwear, warm and cotton trousers or jeans, shirts and T-shirts, shorts, long underwear, wool hat, sun hat, gloves, bathing suit, track suit.
Other equipment: Sleeping bag (5 seasons), lock, day pack, water bottle, sun cream, sunglasses, flashlight with spare bulbs and batteries, lip salve, gaiters.
Other items: Insect repellent, toilet articles, diary, toilet roll, laundry soap, wet ones, pocket knife, towel, sewing kit, plasters, binoculars, camera, film, cards and personal medical kit.
Useful Info
Trekking Further useful information:
Please respect local traditions, customs, values and sentiments to help protect local culture and maintain local pride.
Respect privacy when taking photographs
Respect holy places.
Refrain from giving money to children as it encourages begging.
Respect for the local etiquette earns you respect.
Let the Himalayas change you – Do not change them.
Protect the natural environment.
Leave the campsite cleaner than you found it.
Limit deforestation – make no open fires.
Burn dry paper and packets in a safe place.
Keep local water clean and avoid using pollutants.
Plants should be left to flourish in their natural environment
FAQ
DO YOUR GUIDE/PORTERS SPEAK ENGLISH?
Our cultural tour guides are pretty proficient. The trekking guide (Sirdar) and his assistants speak a reasonable amount of English and are good enough to explain to you about the places, local culture or any sight that catches your eyes or is of interest to you.
HOW BIG ARE THE GROUPS?
We try to bring together a small group of likeminded people to give them a memorable and insightful adventurous experience, and this is an invaluable opportunity to interact with each other in a fun-filled environment. Our travel group generally comprises of a maximum 12 members. We need a minimum of 2 participants to run our trek programs. For private trips, no minimum or maximum numbers apply.
DO YOU PROVIDE ANY EQUIPMENT WHILE TREKKING?
On all our Camping treks we provide all the tents, sometimes dome tents, sometimes sturdy A frames and normally people share one tent between two; a foam mattress each; all the cutlery and utensils, cooking pots, stoves; candles/kerosene lantern, tables and stools, kitchen tent, a dining tent and toilet tent; and all the main meals while trekking but not snacks. On Tea house treks, there is no necessity to provide any equipment.
IS IT HEALTHY TO TAKE SHOWERS DURING THE TREK?
You can get hot shower services throughout the trip. However, the higher you climb the less pleasant it will be. It's better to be on the safe side of things.
DO TEA HOUSES HAVE ELECTRICITY SO I CAN CHARGE MY ELECTRONIC DEVICES?
Most of the teahouses have electricity facilities during the trekking period. You can charge your electronic devices on the trail.
WHERE CAN I KEEP MY LUGGAGE?
You can keep your luggage & valuable items in a locker at the hotel in Kathmandu for free of charge.
The trip can be easily booked
We provide budget friendly trips
We provide the best price in comparision
Transportation
Flight / Land
Accomodation
Tea House/Camping/Home Stay
Route Map