Lamjung Himal Trek
Trip Overview
Lamjung Himal trekking is non touristy trekking trail in Annapurna region. Lamjung Himal trekking offer beautiful Himalayan scenery including Annapurna Himalayan range, Dhaulagiri Himalayan range and Manaslu Himalayan range etc, beautiful landscape , lush valley, mixed Nepalese culture, temples and monasteries. Only Tented /camping trekking is possible in Lamjung Himal trail.
Outline Itinerary
Day 01: Kathmandu (1350m):
Day 02: Kathmandu - Beshi Sahar (823m): 6/7 hours
Day 03: Beshisahar - Ghalegaun (2070m.): 6/7 hours
Day 04: Ghalegaun - Maidu Kharka (2877 m)
Day 05: Maidu Kharka - Kyubara (3470 m)
Day 06: Kyubara – Furju Dewrali (4385 m)
Day 07: Furju Dewrali - Lamjung Himal Base Camp (4500 m)
Day 08: Lamjung Himal Base Camp - Singaligoth (2900 m)
Day 09: Singaligoth - Siklis (1980 m)
Day 10: Siklis – Pokhara (820 m) 5 hours
Day 11: Pokhara - Kathmandu
Day 12: Kathmandu
Day 13: Final departure day
Itinerary
Day 01: Kathmandu (1350m):
After arrival in Kathmandu airport we will transfer you to the hotel.
Day 02: Kathmandu - Beshi Sahar (823m): 6/7 hours
Early morning drive from Kathmandu to Besisahar. It takes six to seven hours to reach Bseisahar by bus.
Day 03: Beshisahar - Ghalegaun (2070m.): 6/7 hours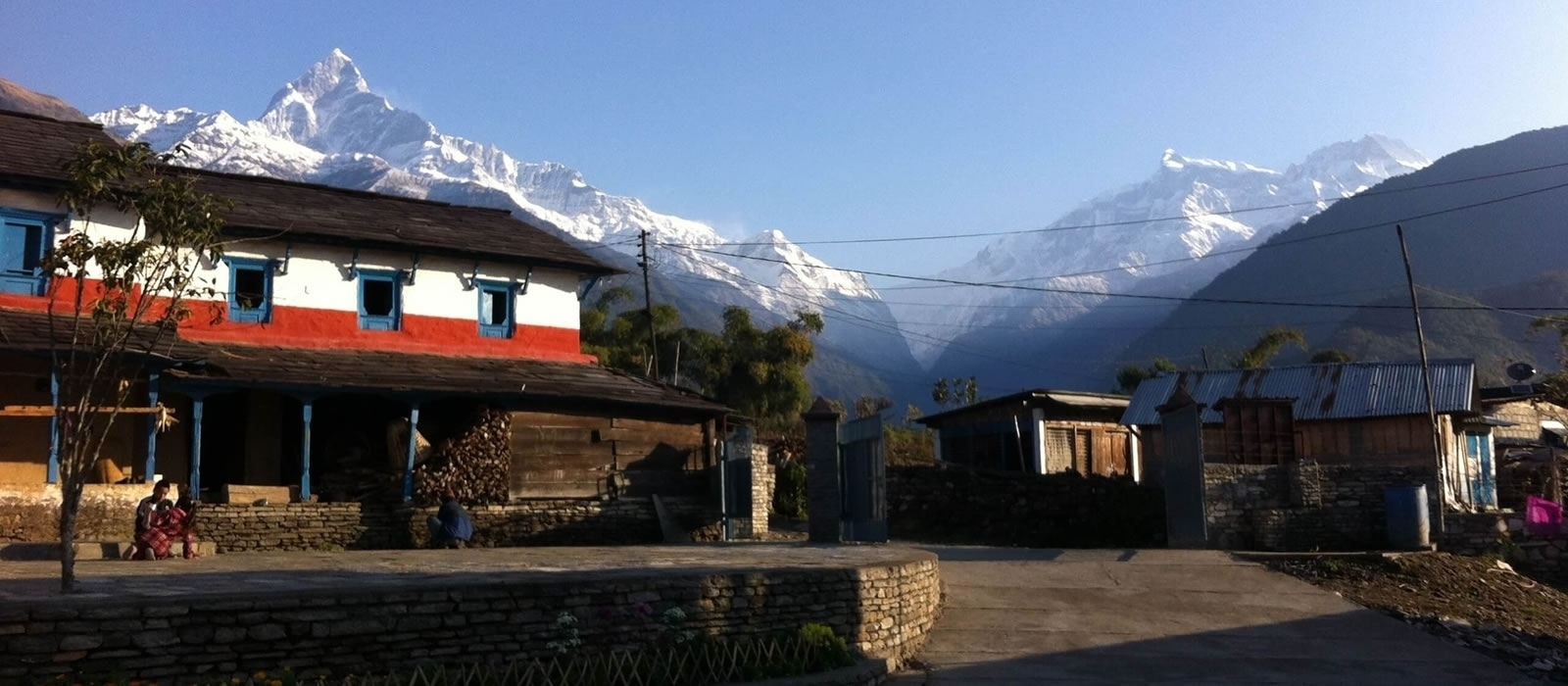 This day after walking 6/7 hours ascending up hill after we will reach Ghalegaun. This Ghalegaun village has major settlement of Gurung community (one of the ethnic groups of Nepal), at night we will enjoy Gurung cultural show organized by locals. From here we can see whole Manaslu range
Day 04 : Ghalegaun - Maidu Kharka (2877 m)
This day we will walk through ascending trail crossing various rhododendron forests and hills covered with different flowering plants and on the way we can see plenty of wild animals too. From Ghalegaun till Tanting we will not see any kinds of settlements, we could only see pack of sheep's and goats rearing on the grasslands and it is very quiet and calm area. We will walk around 5 hours to reach Maidu, from here we can see scenic views of hills and snow capped mountains.
Day 05: Maidu Kharka - Kyubara (3470 m)
This day on the way to Kyubara we will walk 6/ 7 hours mostly through the trail which is in the upper level of the hill. From here we can see very beautiful views of various mountain ranges such as Manaslu, Lamjung himal, Himlung himal, Annapurna II, III, IV and looking downwards we will see beautiful village settlements.
Day 06: Kyubara – Furju Dewrali (4385 m)
This day also on the way to Furju Dewrali, we will walk 5/6 hours through the upper level of the hill. In this trekking route water is scarce, because this trail lies on the top level of the hill.
Day 07: Furju Dewrali - Lamjung Himal Base Camp (4500 m)

This is little difficult trail, en route we may find ice deposit. It is not a busy route and following narrow trail we will reach Lamjung Himal Base Camp.
Day 08: Lamjung Himal Base Camp - Singaligoth (2900 m)
This is also a narrow and difficult trail. Starting from Lamjung Himal Base Camp it will take 5/6 hours to reach Singaligoth. We will descend for 3 three hours and afterwards crossing jungles we will reach Singaligoth.
Day 09: Singaligoth - Siklis (1980 m)

This day we will walk for about 5/6 hours through descending and ascending trail towards Siklis village crossing through jungles. Silklis village is beautiful and is filled with Gurung communities one of the various ethnic communities of Nepal, most of the men in this community are enrolled in British Gurkha and Indian army.
Day 10: Pokhara (820 m) 5 hours
After breakfast, we will drive to Pokhara. It will takes around 5 hours by local bus to reach Pokhara.
Day 11: Pokhara - Kathmandu

We can fly or drive by private vehicles/tourist bus to Kathmandu.
Day 12: Kathmandu
This day we will have a free day for shopping and other activities such as Kathmandu city sightseeing etc.
Day 13: Final departure day
Transfer to international airport and fly to your destination.
Equipment List
Document List:
Valid passport
2 extra passport size photos
Photocopies of passport and visa form
Dollars in cash for purchasing Nepalese visa at Kathmandu airport
Credit cards, bank/ATM/cash machine cards for withdrawing funds from cash machines
Accessories:
Sleeping bag
Headlight with batteries
Water bottles
Toiletries
Small wash towel
Personal Clothing items:
Head:
Sun hat or scarf
warm fleece hat
Black Sunglasses
Upper Body:
T-shirts
Weight thermal tops
Fleece jacket
Fleece Wind-Stopper jacket
Waterproof jacket
Down vest or jacket
Hands:
Lightweight gloves
Heavyweight gloves or mittens with a waterproof shell outer
Lower Body:
Underwear
Hiking shorts
Lightweight cotton long pants
Light and expedition weight thermal bottoms
Fleece or wool pants
Waterproof pants
Feet:
Thick, warm wool hiking socks
Hiking boots with spare laces
Camp shoes (sneakers or sandals)
Personal Hygiene:
Two tubes lip sun cream, at least 1 large tube regular sun cream (min. factor 30), some after-sun lotion in case you do get a sunburn
toothpaste/brush set;
hand sanitizer gel
1 synthetic towel
Medical Supplies:
First-Aid kit
Anti-diarrhea pills (Imodium)
Anti-headache medication (Aspirin or Ibuprofen)
cold medicine.
antibiotics for stomach infection
anti-altitude sickness medication: Diamox (Acetylzolamide)
water purification tablets
Useful Info
This trek can be redesigned or redeveloped as per your taste, For more information please e-mail us at mountainsunvalley@gmail.com
FAQ
1. What preparations should I make before trekking?
It is always a good idea to involve yourself in doing physical exercises before trekking. Not that you have to be all athletic and muscular to trek. An average level of physical fitness will make the journey less stressful.
2.Is drinking water easily available?
Availability of drinking water is not the problem. The problem is the cost of it at higher altitude. As you gain height, the price of water rises up to 2-3$ per liter.
An alternative way of getting drinking water is by having your water bottles filled in tea houses. Tea houses will provide you boiled water for about 1$ per liter. They are completely safe for drinking.
3.What kind of food is available during trekking?
Food is not of any concern while trekking. You will get all kinds of cuisines. For breakfast, tea houses will provide you with eggs cooked in your preferred style along with pan cakes, bread butter, roti, and so on.Various other dishes like pizza, pasta, momo, chowmein and many more are also available. The most preferred dish is Dal Bhaat. It is a typical Nepali meal. Rice is served with vegetable curry, lentils, tomato chutney and meat curry.
4. What are the risks associated with trekking?
Trekking is an extreme sport and does come with a lot of risks. Some unavoidable risks are avalanche, heavy rainfall, earthquake, landslide and other such natural calamities.
You might fall and injure yourself or catch some viral flue. The deadliest risk of trekking is AMS or Acute Mountain Sickness. This sickness occurs when a great altitude is gained and the body fails to adjust to the changing pressures associated with it. Anyone can fall a victim of the sickness and if not treated in time, it can be fatal.
5. Do I need a guide/porter to trek?
There is no such hard and fast rule that you must have one. But it is highly advisable to travel with them. Some of the treks cannot be trekked without a guide most of them are the restricted ones.
A guide is someone who will help you with navigations. He will also have a better idea about the places to live in and eat at can negotiated prices for you.
The trip can be easily booked
We provide budget friendly trips
We provide the best price in comparision
Accomodation
Camping/Lodge
Route Map