Ama Dablam Base Camp
Trip Overview
Ama Dablam means "Mother's necklace" - the long ridges on each side like the arms of a mother (ama) protecting her child, and the hanging glacier resembles the 'Dablam', the traditional double-pendant with pictures of the gods, worn by Sherpa women.
Hike to Ama Dablam Base Camp is a short but possible within 9 days itinerary compared to most walks in this region leading up to the base camp of the mountain Ama Dablam which is of 6812m height, deep on the Everest Region.
Ama Dablam is popular for its mysterious and stunningly located Camp2 location on the cap of a rock pillow with room for just a few tents.
Ama Dablam Trek is for tourists who like to explore Buddhist monasteries, Sherpa Culture with unparalleled views of some world's highest peaks. While walking along this trail, you have stunning views of the highest mountains in the world. Everyone wants a glimpse of Everest, but there is also imposing Nuptse, Lhotse, Ama Dablam and Flanks of Ama Dablam smiling at you.
We design this route for travelers who wish to hike to the base camp of the spectacular mountain which passes through the lovely forest to the world-renowned and sacred monastery of Tengboche but are restricted time-wise. Captivating Ama Dablam and Everest region will leave you fascinated and wanting more.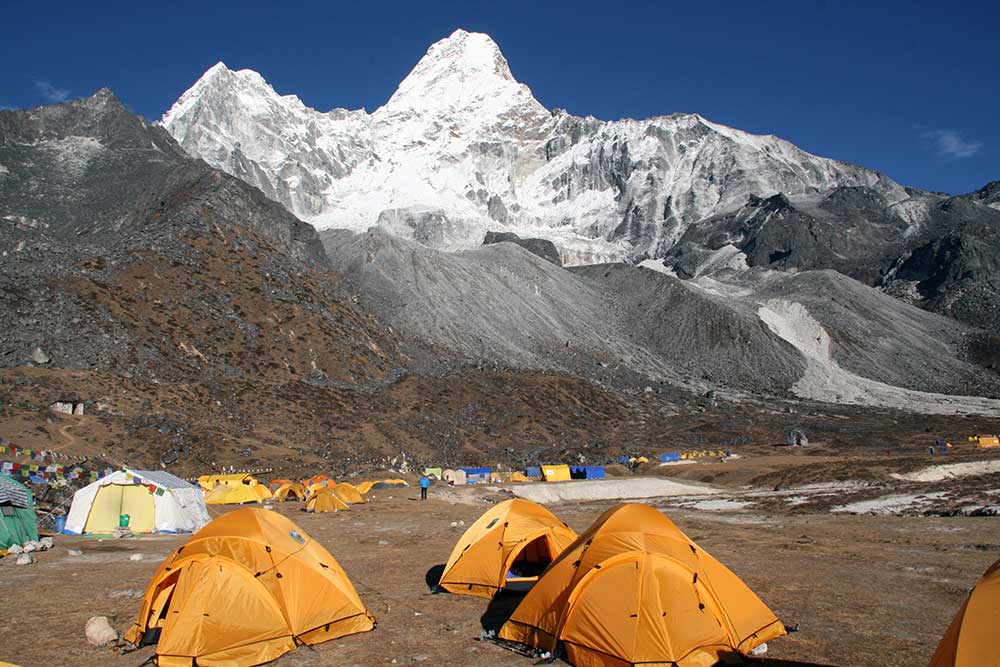 Travelers who wish to reach the Everest Base Camp Trek in a more relaxed manner can try this itinerary however if this itinerary does not fit you then send us an inquiry for a tailor-made itinerary.
---
Trip Info
Destination: Khumbu, Nepal
Trip Routes: Kathmandu - Lukla - Namche Bazaar - Khumjung - Dewoche - Ama Dablam Base Camp - Namche Bazaar - Lukla - Kathmandu
Activities: Trekking and Sightseeing
Altitude: 4570m (14993ft)
Trip Duration: 9 Day (s)
Trip Grade: Easy-Medium
Season: March to June and September to November
---
---
Outline Itinerary
Day 01: Arrival at Kathmandu Valley
Day 02: Fly from Kathmandu to Lukla (2652m/5700ft)
Day 03: Namche Bazaar hiking (3440m/112499ft), 6 hours
Day 04: Khumjung hikes (3,789m/12,428 feet) via Tengboche hill, 3 hours
Day 05: Dewoche hikes (3,805m/12,480 feet), 6 hours
Day 06: Ama Dablam Base Camp trek (4,600m/15,088 feet)–Pangboche, 7 hours
Day 07: Trek descend to Namche Bazaar passing Tengboche Monastery (3,867m/12,684 feet), 7 hours
Day 08: Namche Bazaar to Lukla Nepal airport hiking (2,886m/9,337 feet.), 8 hours
Day 09: Scenic Himalayan Mountain flight from Lukla to Kathmandu
---
Cost and dates
We do small group trek or private trip as your request.
For quick information contact us at WhatsApp/Viber +977-9841815039

This trip can get redesigned or redeveloped as per your taste, for more information please e-mail us at mountainsunvalley@gmail.com
Itinerary
Day 1 Arrival at Kathmandu valley
Upon arrival in Kathmandu, Tribhuvan International Airport, we will receive you with a private vehicle and transfer to the hotel in Kathmandu with breakfast plan. Our representative will give you information about further programs.
Day 2 Fly from Kathmandu to Lukla (2,652m / 8,700ft)
You'll ride to the domestic terminal of Kathmandu airport for an early morning flight to Lukla (2,800m /9,186ft), a gateway-destination from where your trek begins. After an adventurous 40-minute flight above the breathtaking green hills and white mountains, you reach Lukla Airport. This is one of the most beautiful air routes in the world, culminating in landing on a spectacular airstrip on a hillside surrounded by high mountain peaks. You start your trek through the prosperous village of Lukla until you reach Phakding. To assist in your acclimatization, you only have a short hike. However, if you're interested in additional activities, you can take a side trip to a nearby monastery.
Overnight-stay is in Phakding at a tea-house or lodge.
Day 3 Namche Bazaar hiking (3,440m/11,249 feet.), 6 hours
The trail climbs from the riverbed on the left, then right bank into the mountain, through a forest Sagarmatha National Park office. Walk further to cross over the Hillary Bridge, the trek begins the steep ascent to Namche Bazar. On the way, we would have excellent views of Everest (8848m) and Lhotse (8,516m.). Surrounded on three sides by mountain ranges, Namche Bazar (3,440m) is a central hub of the area for food, trekking gears, and other necessary goods.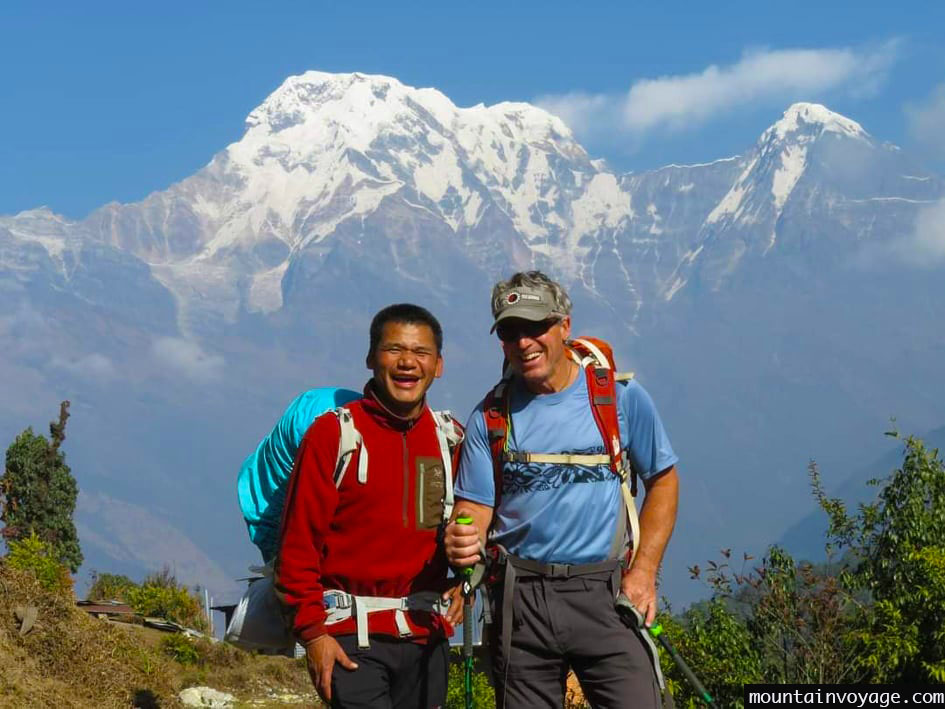 Day 4 Khumjung hikes (3,789m/12,428 feet) via Sengboche hill, 3 hours
We start with a steep one-hour climb to the Sengboche airstrip (3,790m) than Khunde passing many Choruses and hill stations. Walk further to get an excellent view of Mt. Everest, Ama Dablam, Thamserku, Nuptse, Lhotse, Tawche, Kwangde and much other snow-capped mountains in a row. Walk to Khumjung village (foothill of the sacred peak Khumbila). We can also visit the Khumjung monastery, which is a small settlement of the Sherpa community.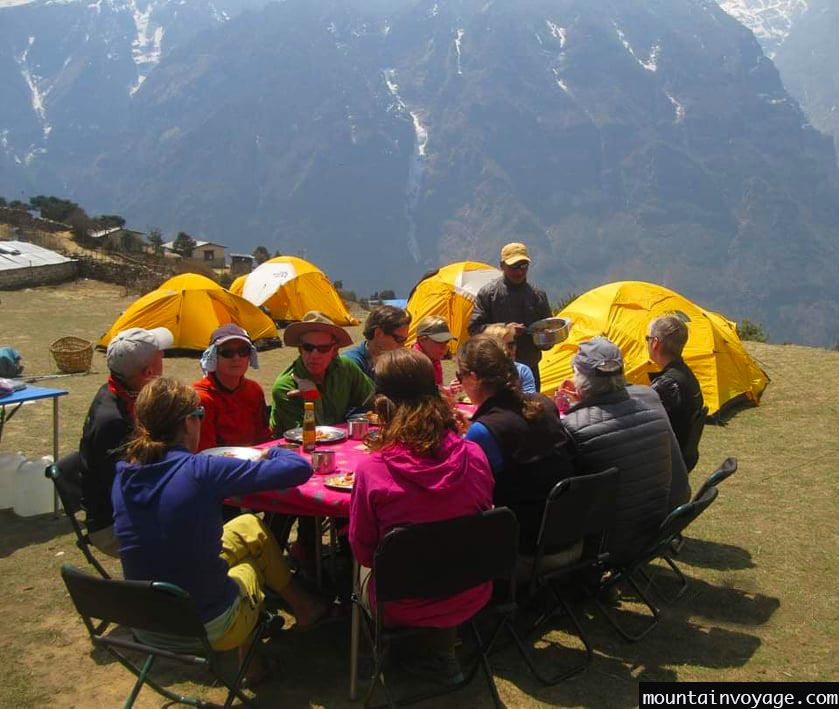 Day 5 Dewoche hikes (3,805m/12,480 feet), 6 hours
Having breakfast, we catch the main trail to Tengboche Monastery. The trail goes ahead, leaving a steep that drops to the Dudh Koshi. During the journey, we would have a panoramic view of the Himalayas such as Ama Dablam (6,812m), Everest, Lhotse, Nuptse (7855m) and Tawoche (6501m). We will visit Trashinga, Phunki Tenga and reach Tengboche Monastery. Tengboche hill station offers an excellent view of sunrise and sunset at Everest and Ama Dablam. Walkabout 60 minutes further to reach Dewoche village where we stay overnight.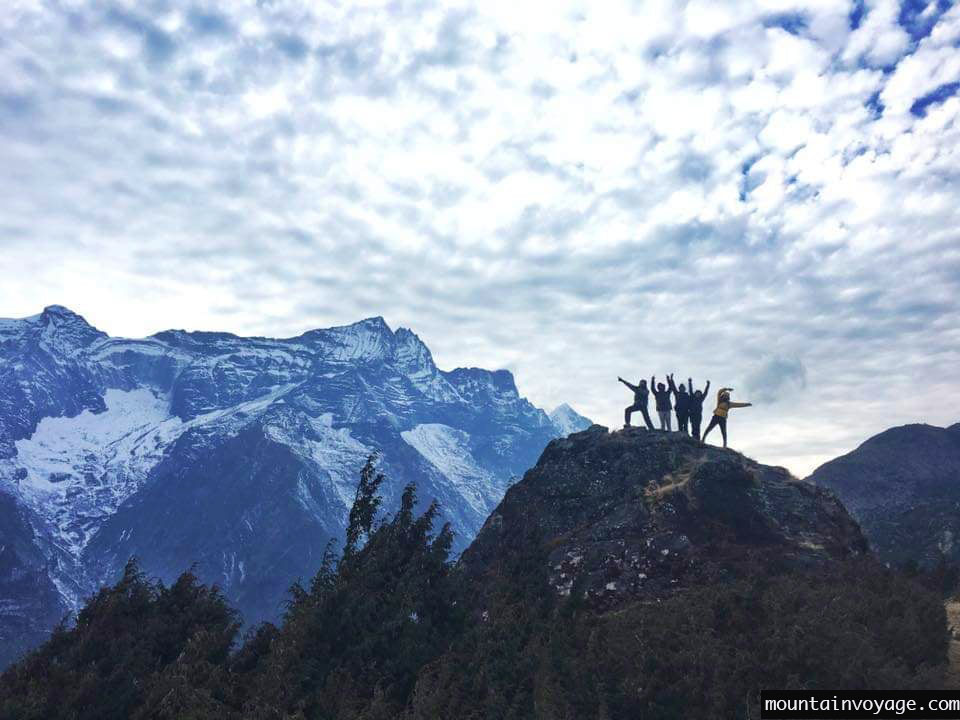 Day 6 Ama Dablam Base Camp trek (4,600m/15,088 feet)–Pangboche, 7 hours
Walking about 45 minutes further, we reach the river bridge. We ascend easily about 1 hour to reach Pangboche village. If you are lucky enough, you might see the Himalayan Thar, Yaks, Pheasant, and wild eagle, etc. You can also visit an old monastery in the whole Everest region, and you will see the Yeti head at the monastery on request. Walk further to descend to the river again.
The steep ascend uphill to Yuholungche Kharka. After the trail gradually climbs up to the Ama Dablam base camp at an altitude on 15,088feet. Along the way, you can see an incredible view of Ama Dablam (6,856m), Lhotse (8,516m), Lhotse Shar (8,382m), Nuptse (7,879m), Lobuche peak (6,090) Mt. Pumori (7,165m), Kangtega (6,783m), Kusum Kanguru (6,367m), Thamserku (6,623m), Cholaste (6,335m), Tabuche peak (6,495m), Khumbi La (5,765m), Kwangde Ri (6,011m), Khumbu Yul Lha (5,761m), Amphu Gyabjen (5,630m), Ombigaichan (6,340m), and beautiful view of Minbo Glacier, etc. Visiting around the base camp we walk with an easy downhill to the river. After crossing the river, a bit climbs up, and finally you reach Pangboche.
Day 7 Trek descends to Namche Bazaar passing Tengboche Monastery (3,867m/12,684 feet), 7 hours
The trail descends past some magnificently carved mani stones to the Imja Khola. We walk further through a forest of birches, conifers and rhododendrons, Nepal's national flower, crossing a steel suspension bridge high above the river. Reaching the Tengboche monastery (3,867m), you may enjoy the magnificent view of the Mt. Everest, including the other Himalayas. Tengboche monastery is one of the beautiful monasteries in the Solu Khumbu area and the religious center of the whole Sherpa people. Descend downhill walk along the Dudh Koshi River through the magnificent rhododendron forest and past brilliant waterfalls. On ascend to Lagusasa takes us through a pine forest, where musk deer often graze in the early morning. An easy walk further about 2 hours to get Namche Bazaar.
Day 8 Namche Bazaar to Lukla Nepal airport hiking (2,886m/9,337 feet.), 8 hours
We trek to Lukla with the same trail as we use on ascend. It is the last day of our trekking. Upon arrival at Lukla, we would get refreshed and take rest.
Day 9 Scenic Himalayan Mountain flight from Lukla to Kathmandu
We board our early flight from Lukla to Kathmandu. Upon arrival at Tribhuvan International Airport, our representatives would receive us and transfer to the hotel. In the afternoon, go for shopping or request us to discover Kathmandu as a guided trip on additional cost.
Equipment List
Document List:
Valid passport
2 extra passport size photos
Photocopies of passport and visa form
Dollars in cash for purchasing Nepalese visa at Kathmandu airport
Credit cards, bank/ATM/cash machine cards for withdrawing funds from cash machines
Accessories:
Sleeping bag
Headlight with batteries
Water bottles
Toiletries
Small wash towel
Personal Clothing items:
Head:
Sun hat or scarf
warm fleece hat
Black Sunglasses
Upper Body:
T-shirts
Weight thermal tops
Fleece jacket
Fleece Wind-Stopper jacket
Waterproof jacket
Down vest or jacket
Hands:
Lightweight gloves
Heavyweight gloves or mittens with a waterproof shell outer
Lower Body:
Underwear
Hiking shorts
Lightweight cotton long pants
Light and expedition weight thermal bottoms
Fleece or wool pants
Waterproof pants
Feet:
Thick, warm wool hiking socks
Hiking boots with spare laces
Camp shoes (sneakers or sandals)
Personal Hygiene:
Two tubes lip sun cream, at least 1 large tube regular sun cream (min. factor 30), some after-sun lotion in case you do get a sunburn
toothpaste/brush set;
hand sanitizer gel
1 synthetic towel
Medical Supplies:
First-Aid kit
Anti-diarrhea pills (Imodium)
Anti-headache medication (Aspirin or Ibuprofen)
cold medicine.
antibiotics for stomach infection
anti-altitude sickness medication: Diamox (Acetylzolamide)
water purification tablets
Useful Info
Sagarmatha National parks is one of the best mountain viewing National Park in the world. Ama Dablam is one of the highlights of the Everest region, but there is so much more. We have the best acclimatization available along with views of Mount Everest, Lhotse, Ama and Thamserku, to name a few. You will also venture through Sherpa villages like Namche Bazaar and the famous Tengbouche and get off the beaten Everest Trail and we will get you face to face with Ama Dablam.
For more Information:
FAQ
What is the level of accommodation like?
In Kathmandu, your accommodation will usually include an attached bathroom and have facilities such as air conditioning, reception and dining services.
Once you start your trek, you will be staying in "Teahouses." Accommodation is limited, especially the higher you get, so your room may vary from a private single/double room to a bed in a dormitory. Bed mattresses are usually firm, not sprung mattresses that you may be used to at home. The accommodation is very basic and there will usually be shared shower and toilet facilities.
Where can I keep my luggage?
Any luggage that you will not require during your trek can be kept securely in the hotel in Kathmandu or in the storeroom of our office.
Do I need to take walking polls?
Walking polls are not essential but can be useful especially on the way down. Poles help you balance on the way down and take the strain off of your legs (quad muscles) on some of the steep climbs. You can buy or hire poles in Kathmandu and they easily collapse so you can attach them to your backpack when they are not needed.
Can I buy any equipment in Kathmandu before the start of the trip?
There are plenty of trekking shops in Kathmandu selling equipment inexpensively compared to the prices you would normally pay at home, although, the quality of these products cannot always be guaranteed. If you do not want to take the risk, we recommend you buy major items such as trekking shoes, before you arrive in Nepal.
Can I recharge my iPod, batteries, cameras etc… while on the mountain tour?
Yes, you can, in the teahouses. Please remember that plugs might be different than at home so don't forget to bring adapters with you or buy them in Kathmandu before the trip. You will have to pay for the use of the electricity to recharge your electrical items, usually at a cost of $2-3 US per hour.
Can we take showers during the trek?
Showers are available at the teahouses. They will usually be shared bathrooms in most teahouses, especially the higher up you go. You will have to pay for a hot water shower per person.
How much money per day do you think I will need? What currency should I take?
The amount of money you will need on a daily basis depends on your spending habits. A guide would be $10 per day for extra drinks and bar bill during your trek and $20 per day to cover lunch/dinner whilst in Kathmandu.
From USD700pp
The trip can be easily booked
We provide budget friendly trips
We provide the best price in comparision